Welding & Fabrication
Material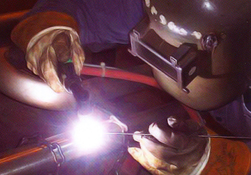 Cast iron, Cast steel, Carbon steel, Low alloy steel, Stainless steel, Copper, Aluminum and other non-ferrous alloys.

Services
• Product design
• Mold and Tool making
• Machining, Fabrication, Bending, Welding, Stamping, etc
• Heat Treatment, Surface Treatment, Finish, Assembly
• Testing & Quality Control
Applications
• Boiler parts and subassemblies
• Automotive & Rail Industry
• Oil Industry & Petro-chemical equipment parts
• Agricultural equipment
• Building Industry & Construction equipment parts
• Fabrication of Pigging Station Piping

Special Requirements
We are equipped to customize each job to the needs of our clients and meet customer requirements
and exact specifications. ABT's Sales and Engineering Staff are eager to assist you with your next project. Please give us a call at 412-826-8002 or email us at sales@abt-mfg.com for more information.