Boiler Tubing and Pipe
We are an international supplier of specialty tubing and pipe in stainless steel, carbon steel & alloy steel, and offer products to meet the requirements of various industries. ABT specializes in the
manufacture of custom products and is well-equipped to meet all customer specifications.

We supply pressure tubing and pipe to meet high quality requirements for use in heat exchangers, boilers and other critical applications. We adhere to strict production standards and procedures to meet
ASTM / ASME and ISO specifications.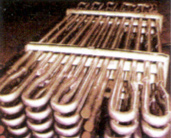 • Cold Drawn Seamless Stainless Steel Tubing
• Cold Drawn Seamless Carbon and Alloy Tubing
• Hot Finish Seamless Carbon and Alloy Tubing
• Welded Stainless Steel and Carbon Tubing for use in pressure applications
Common Specifications
SA53, SA106, SA179, SA192, SA209, SA210, SA213, SA335, etc.
All grades and specifications can be produced upon request.
Emergency Tube Replacement

ABT maintains an inventory of boiler tubing in various sizes & grades. ABT can supply these stock sizes for emergency bending for forced outages in the utility industries.
| | |
| --- | --- |
| Forced Outage Emergency Bends | Stock Tubing |
For addition pipe & tubing supplied from ABT. Click here