Forgings
ABT produces custom designed die castings for industrial use according to ASME, ASTM
and ISO standards. With advanced technology, rich experience, and mass production capability, we
are able to offer cost-effective castings of the highest quality.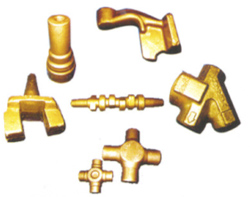 Forging Process
Forging is a manufacturing process in which metal is pressed, pounded or squeezed under great
pressure into high strength parts by the application of compressive force through the use of a power
hammer or machine press.

Advantages
Forging products have several advantages over other manufacturing processes.
• Stronger and more ductile
• Component repeatability
• Consistent Quality
• Long life
Material
Aluminum, Carbon, Alloy, Stainless Steels, Tool Steel, Titanium, Brass and Copper, etc.

Equipment
Crank Forging Press, Abrasive Forging Press, Hydraulic Forging press, Horizontal Forging Machine, etc.
Maximum Mass
50,000 lbs

Dimensional Tolerance
+/-0.003"

Services
• Product and mold design
• Mold making
• Forging
• Machining, Heat Treatment, Surface Treatment, Assembly
• Testing & Quality Control
Applications
• Aircraft components, heavy trucks, marine equipment
• Construction equipment
• Agricultural equipment
• Mining, energy and oil-field equipment
• Boiler / pressure system